Vala #5 Cover & Blurb, Daniel #4 Blurb
Stargate: Vala Mal Doran #5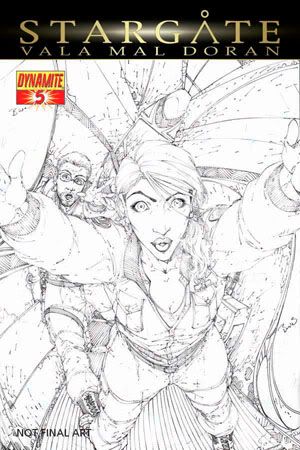 The end is the beginning is the end! It's time for the final hand to be played, and trust is in short supply. Revenge, redemption and loyalty are all up for grabs in this game; will Vala lose it all...or has she been holding the ace all along?
Writer: Brandon Jerwa
Covers: Brett Booth
Penciller/Inker: Cezar Rezak
Colorist: TBD
PAGE COUNT: 32 pages
Publication Date: SEPT 2010
Stargate: Daniel Jackson #4
Daniel Jackson is the perfect post-modern hero. He's not only brave, he's brilliant. Just the man to solve an ancient riddle and find a Treasure that's been lost for ages. But that treasure is both hidden and well-guarded. Can even Daniel Jackson succeed where generations of seekers have failed?
Writer: Doug Murray
Covers: Chasen Grieshop
Penciller/Inker: John Watson
Colorist: TBD
PAGE COUNT: 32 pages
Publication Date: SEPT 2010