'The Power Behind The Throne' Discussion & Info Post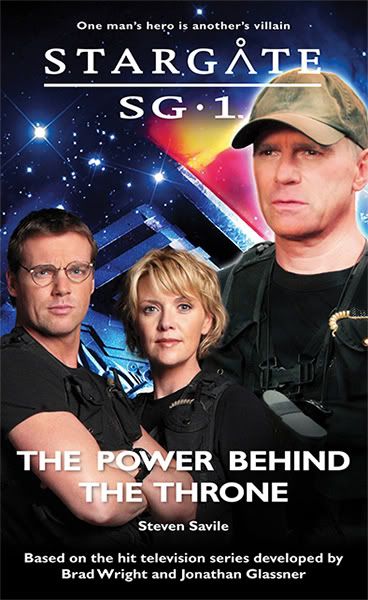 The enemy within…

When the Tok'ra ask SG-1 to save a tortured creature from the clutches of Apophis, how can they refuse? But the Mujina is no ordinary being - devoid of face or form, it draws its identity from those around it. All things to all people, it is a creature with terrible potential - for both good and evil.

Their pursuit of the Mujina takes the team to a nightmarish world where human wickedness is at its worst - and there, the creature fi nds its home. Captured by the ethnically pure Corvani, Colonel O'Neill's team must confront the planet's insane leader, the Raven King, as well as a more familiar and insidious enemy.

In this gripping adventure, award-winning author Steven Savile takes SG-1 on an unforgettable journey into the heart of darkness…
SG-1 #15First book in the Iblis Trilogy
Related novels:
Shapeshifter
(not yet released),
Trickster
(not yet released).
Chronological placement:
Midway through season five.
Author:
Steven Savile
Publisher:
Fandemonium
Format:
Paperback 288 pages
ISBN 10:
1905586450
ISBN 13:
978-1905586455
Released:
September 2010
Here you can review, ask questions or generally chat about this novel! You are of course also welcome to make new or link to your own posts. If you'd like to know when a new comment has been posted click on the 'Track This' option below.